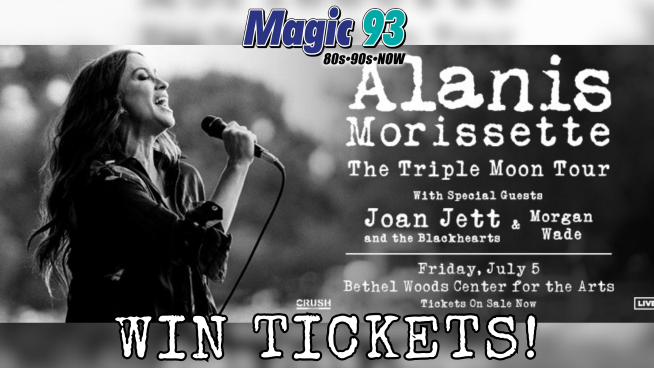 ALANIS MORISSETTE
JULY 5TH | BETHEL WOODS CENTER FOR THE ARTS
As a musician, Alanis Morissette isn't easy to pigeonhole, since her albums encompass rock, pop, folk and all points in between. Unsurprisingly, her live shows reflect this eclectic approach. On her electric tours, she's a powerful rock goddess belting out hits while circling the stage or slashing at a guitar. On her acoustic tours, though, she brings out the delicate nuances of her music, and allows her smoky voice and emotional delivery to take center stage. In a nod to her versatility, over the years Morissette has toured with Tori Amos, Barenaked Ladies and Matchbox 20 – and even opened for the Rolling Stones.
Growing up, Alanis Morissette was both an actress – she appeared on the kids-geared show You Can't Do That on Television – and a teen pop singer in her native Canada. But after releasing two mainstream pop albums, she arrived in the U.S., where she teamed up with Glen Ballard to make the confessional, alternative rock-leaning Jagged Little Pill. The 1995 album was a blockbuster, selling more than 30 million copies globally and spawning four No. 1 hits in her native Canada and three Top 10 hits in the U.S. ("You Oughta Know," "Ironic" and "You Learn"). Jagged Little Pill also won several Grammy Awards, including Album of the Year and Best Rock Album.
Morissette continued her dominance throughout the 1990s and into the 2000s, landing two No. 1 albums (1998's Supposed Former Infatuation Junkie and 2002's Under Rug Swept) and more hits, including the Grammy-winning "Uninvited." She also restarted her acting career, and notably played the character of God in Kevin Smith's Dogma, while maintaining a steady touring and recording schedule. No matter where her career goes, however, Morissette is always pushing herself into new creative realms. In 2019, a musical based on Jagged Little Pill opened on Broadway.
Morissette is embarking on a 31-date North American tour starting June 2nd, 2020 in Portland, OR. The tour will celebrates 25 years of JAGGED LITTLE PILL. It hits cities like Los Angeles, New York, Toronto, and Chicago before wrapping in Nashville, TN on July 25th, 2020 and she'll be playing all her biggest hits along the way. Alanis is joined by special guest Garbage with Liz Phair also appearing.

Official Rules for Win ALANIS MORISSETTE Tickets 11-13 to 11-17