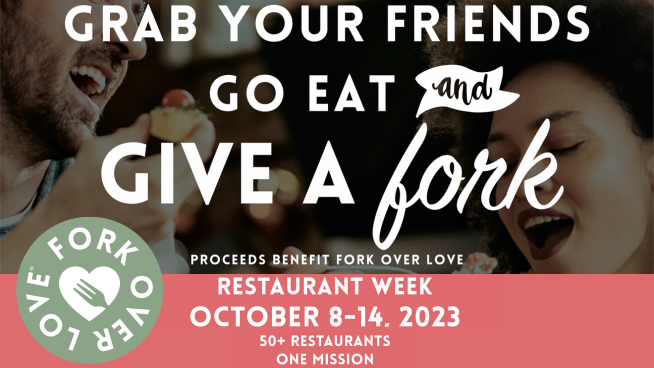 FORK OVER LOVE RESTAURANT WEEK ANNOUNCED OCTOBER 8-14

Enjoy a Delicious Taste of the Region While Supporting a Great Cause

 

September 6, 2023—Fork Over Love invites the entire community to show they "Give a Fork" about nourishing each other by supporting the inaugural Fork Over Love Restaurant Week fundraiser scheduled for October 8-14, 2023.

In August 2023, Fork Over Love reached a milestone 50,000 meals distributed throughout our community and $500,000 reinvested in small, locally-owned restaurants. "Fork Over Love is a testament to the power of a hot meal served with love. By investing in our restaurants to feed our people, we know that we are creating a socially innovative and responsible solution to nourish our entire community with dignity, grace, and power—physically, mentally, emotionally, socially, culturally, and economically. We are encouraging everyone to grab their friends, go eat and give a fork in October in support of the great partners and clients we serve every week."

Restaurant Week is made possible through the generosity of Fork Over Love's Circle of Love Sponsors, which include AllOne Foundation, Altitude Foundation, Community Bank N.A., Cumulus Radio, Highmark Blue Cross Blue Shield, Hoegan & Associates, P.C., Lamar, M&T Bank, McCarthy Tire, Selingo Guagliardo, Trion, and William G. McGowan Charitable Fund.

The week-long celebration benefits the mission of Fork Over Love and highlights many of Luzerne County's small, locally-owned culinary venues. From Sunday, October 8, through Saturday, October 14, approximately 50 local restaurants will showcase their signature dishes in support of Fork Over Love.

"Luzerne County holds a treasure of culturally diverse locally owned dining establishments," said Ruth Corcoran, event co-chair and Fork Over Love board member. "From authentic Jamaican and Spanish cuisine to Italian and other local favorites, Fork Over Love Restaurant Week will feature it all. It's a true celebration of NEPA culinary talent, and we hope this is the first of what will become an annual event."

"Our local restaurants are an important part of our region's economic success," added Lindsay Griffin-Boylan, event co-chair and Fork Over Love board member. "Whether you select a restaurant you've never tried or visit one of your favorites, you'll be joining together with your community to support the sustainability of our local restaurants, as well as Fork Over Love."

In addition to supporting Fork Over Love by visiting a participating restaurant between October 8-14, you can also purchase a raffle ticket for the "52 Weeks of Dinner" Raffle." The winner will receive 52+ gift certificates for area restaurants. The drawing will be held on October 18. Tickets can be purchased online at forkoverlove.org.

Each day throughout Restaurant Week, there will be different restaurant features that in some way benefit Fork Over Love. For a full schedule of all the specials October 8-14 or more information on Fork Over Love Restaurant Week, please visit forkoverlove.org. Dinner reservations are encouraged to ensure you get a table at your preferred venue.

The current list of participating restaurants includes:

Abe's Hot Dogs, Mountaintop

Adames Restaurant & Bakery, Hazleton

Agolino's, West Pittston

Antonio's Pizza Deluxe, Edwardsville

The Avenue Restaurant & Catering, Wyoming

Bank + Vine, Wilkes-Barre

The Beaumont Inn, Dallas

Bernie's Pizza, Dallas

Bulldog BBQ, Wilkes-Barre Twp.

The Café, Plains

The Canning House, Forty Fort

Canteen Central, Pittston

Circles on the Square, Wilkes-Barre

Cork Bar & Restaurant, Wilkes-Barre

Cosenza's Pizza & Restaurant, Bear Creek

D's Diner, Plains

Fire & Ice on Toby Creek, Trucksville

Franco's, Wilkes-Barre

The Greens at Irem Clubhouse, Dallas

Grico's, Exeter

Hartman Jerk Center, Wilkes-Barre

Hooligan's Bar & Grill, Nanticoke

Jay's Famous Roast Pork & Beef, Dallas

Jonathans Restaurant, Harveys Lake

Just Fred Custom Catering, Pittston

Kevin's Bar & Restaurant, Kingston

Mama's Italian Pizzeria, Nanticoke

Marianacci's Restaurant, West Wyoming

Marie's Diner, Duryea

MVD Restaurant & Bar, Wilkes-Barre

Ovalon, Hazleton

Overbrook Pub & Grill, Dallas

Powerhouse Eatery, White Haven

Pazzo, Jenkins Township

Philly's Phinest, Wilkes-Barre

Pines Eatery & Spirits, Hazleton

Red Mill, Pittston

Rikasa, Pittston

Rocco's, Hazleton

Rodano's, Wilkes-Barre

Rostas Café, Hazleton

Senunas' Bar & Grill, Wilkes-Barre

Tammy's Kitchen, Larksville

TNT Subs and More, Nanticoke

Tomasino's Italian Restaurant, Dallas

Town Tavern, Duryea

Independent restaurants are welcome to join the Fork Over Love movement by applying to become a Certified Restaurant Partner and get paid to cook for struggling residents.

Fork Over Love is a 501(c)(3) organization that purchases hot, chef-made meals from small, independent restaurants and then distributes those meals at locations throughout the community for FREE. Everyone is welcome, from neighbors in need of meals, to those looking to pick up dinner and pay it forward to help support local restaurants.

For more information about Restaurant Week or to donate to help provide meals for your community and support local restaurants, visit forkoverlove.org or call 570-331-8362.