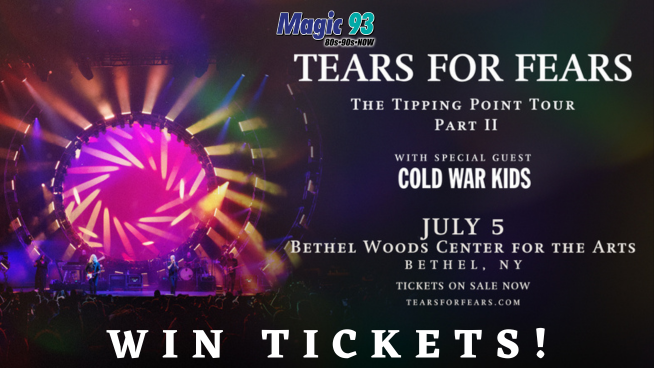 TEARS FOR FEARS
JULY 5TH | BETHEL WOODS CENTER FOR THE ARTS
With how loudly their influence resonates throughout popular music, culture, film, and television, it makes perfect sense Tear For Fears—Roland Orzabal [vocals, guitar, keyboards] and Curt Smith [vocals, bass, keyboards]—presciently nodded to primal scream therapy with their chosen moniker way back in 1981.
Representing an inimitable intersection of pop palatability, clever and cognizant lyricism, guitar bombast, and new wave innovation, their 1983 debut The Hurting yielded anthems such as "Mad World," "Change," and "Pale Shelter," reaching RIAA Gold status in the United States. 1985's Songs from the Big Chair became a watershed moment for the group and music at large. Boasting the signature BRIT Award-winning "Everybody Wants to Rule the World," "Shout," "Head over Heels," "Mothers Talk" and "I Believe (A Soulful Re-Recording)," it went quintuple-platinum and captured #1 on the Billboard Top 200. Slant dubbed it one of "The Best Albums of the 1980s," it featured in the book 1001 Albums You Must Hear Before You Die, and Consequence of Sound awarded it a rare A+ rating in a 20-year retrospective.
1989's Seeds of Love proved to be Roland and Curt's last collaboration together until Everybody Loves A Happy Ending in 2004, which rekindled the creative fire between them. Breaking another quiet spell, the boys engaged in a three-year touring whirlwind across North America, Japan, South Korea, Manila, and South America beginning in 2010. 2013 saw them return with their first recorded music in a decade: a cover of Arcade Fire's "Ready to Start." It proved to be a welcome addition to their three-decade discography of immortal hits ranging from "Mad World," "Change," and "Pale Shelter" to "Everybody Wants To Rule The World," "Shout," "Sowing The Seeds of Love," and "Everybody Loves A Happy Ending."
In 2022, Tears for Fears released their first new studio album in nearly two decades, The Tipping Point, a song cycle reflection many of the personal and professional tipping points the pair — and the world — have faced throughout the last several years. The Tipping Point is the band's first album since their reunion album Everybody Loves A Happy Ending in 2004. Since then, the band have toured extensively, including a sold-out UK arena tour and in 2017 released Rule The World, a best-of compilation that returned the band to upper reaches of the album charts once more. The Tipping Point is the bold, beautiful and powerful sound of Tears For Fears finding themselves together, once again.
Roland and Curt remain as loud as ever, while another generation gets ready to "Shout" with them all over again.

Official Rules Win Tears for Fears Tickets 4-3 to 4-7