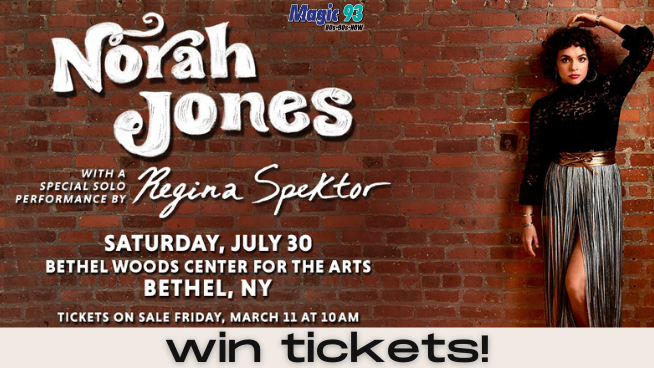 NORAH JONES
JULY 30TH | BETHEL WOODS CENTER FOR THE ARTS 
 Norah Jones is heading to the Bethel Woods Center for the Arts and Magic 93 has your chance to WIN a pair of tickets!
She has won multiple awards and her albums have sold more than 50 million records worldwide. Billboard named her the top jazz artist of the 2000s decade. She has won nine Grammy Awards and was ranked 60th on Billboard magazine's artists of the 2000s decade chart.
In 2002, Jones launched her solo music career with the release of Come Away with Me, which was a fusion of jazz with country, blues, folk and pop. It was certified diamond, selling over 27 million copies.[9] The record earned Jones five Grammy Awards, including the Album of the Year, Record of the Year, and Best New Artist.
On sale: March 11 at 10am ET